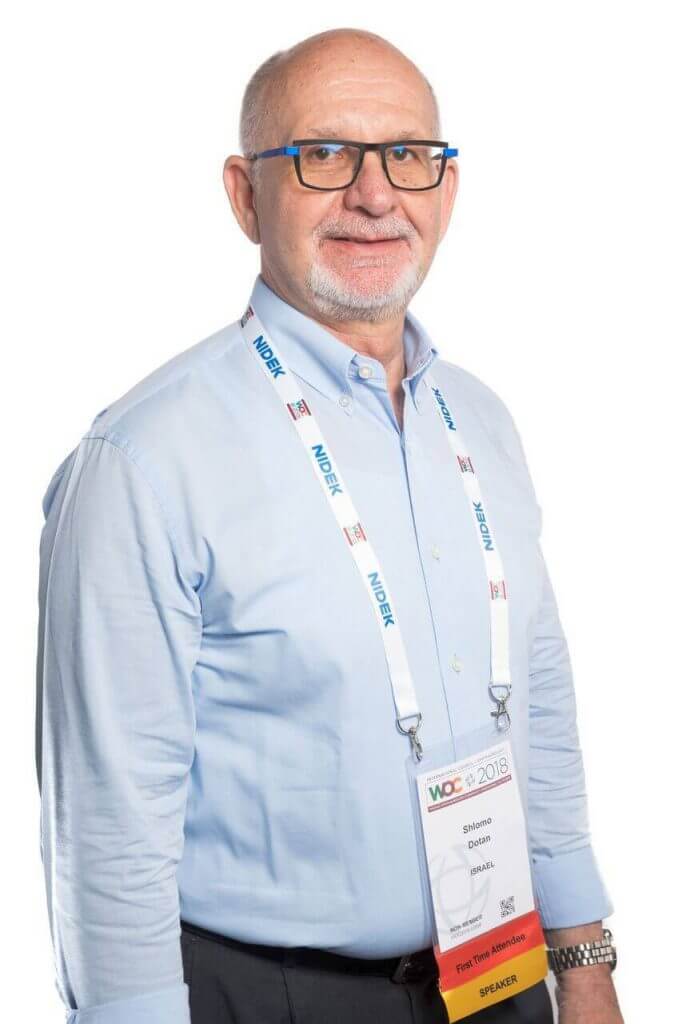 CURRICULUM VITAE
PERSONAL DATA
Name: Shlomo Dotan
Mail address: Mota Gor 4, Petah Tikva , Israel
E-mail: [email protected]
EDUCATION
1968 – 1974 Hebrew University-Hadassah Medical School,Jerusalem
POSTDOCTORAL TRAINING
1975 – 1976 Rotating Medical Internship, Kaplan Hospital, Rehovot
1979 – 1985 Residency in Ophthalmology, Kaplan Hospital, Rehovot
1985 Clinical training in Neuro-Ophthalmology, Department of Neurology, Sheba Medical Center, Tel Hashomer
1989 – 1990 Fellowship in Neuro-Ophthalmology, W.K. Kellogg Eye Center,University of Michigan Medical Center, Ann Arbor, Michigan, USA
ACADEMIC APPOINTMENTS and POSITIONS
1982 – 1989 Instructor in Ophthalmology, Hebrew University- Hadassah Medical School, Jerusalem
1987 – 1989 Senior Physician, Department of Ophthalmology, Kaplan Hospital, Rehovot
1989 – 1990 Lecturer in Ophthalmology, University of Michigan Medical Center, Ann Arbor, Michigan, USA
1990 – 1991 Senior Physician,Department of Ophthalmology, Kaplan Hospital, Rehovot, In charge of the Neuro-Ophthalmology Service
1991 – 31.12.2017 Senior Physician, Staff Member, Department of Ophthalmology, Director of the Neuro-Ophthalmology Service,
Hadassah University Hospital, Jerusalem
SCIENTIFIC ACTIVITIES
Editorial Board Member:
2001 — 2009 Journal of Neuro-Ophthalmology
2002 — Neuro-Ophthalmology
Collaboration on Multicenter Research Projects:
The Optic Neuritis Treatment Trial Study, Archives of Ophthalmology 109:1673-1678, 1991
The International Optic Nerve Trauma Study, Ophthalmology 106:1268-1277, 1999
Phase II high-dose Tamoxifen study in combination with reduction of thyroid hormone levels in failed malignant glioma patients; Collaboration with Cleveland Clinic Foundation
OPTIMUM Research, New Treatment for Multiple Sclerosis
QRK207, global phase 2/3 clinical study in subjects with NAION
HONORS and AWARDS
1985 Research Fellowship, Sackler Faculty of Medicine, Tel- Aviv University,Tel Aviv
1989 Fellowship from the Henry Leon Weiler Grant Foundation, Jerusalem
1989 – 1990 Fellowship from the American Physicians Fellowship, Inc. for Medicine in Israel, Brookline, MA, USA
1990 Traveling Fellowship, Matrix Biology Institute, Ridgefield, New Jersey, USA
CERTIFICATION and LICENSURE
1974 Israel, Medical licensure
1975 ECFMG
1986 Diplomate, Israeli Board of Ophthalmology
MILITARY SERVICE
1976 – 1990 Various Medical Administrative Duties; In Command of Research and Development Section at Medical Corps Headquarters, Israel Defense Forces
MEMBERSHIP in PROFESSIONAL SOCIETIES
Israel Medical Association
Israel Ophthalmological Society
North American Neuro-Ophthalmology Society ( * Former chairman of the International Affairs Committee and member of the Walsh Committee )
American Academy of Ophthalmology ( * Member of Academy's Compass Neuro-Ophthalmology/Orbit Practice Emphasis Area Panel )
European Neuro-Ophthalmology Society ( * Former Member of the Society Council and Head of Education Committee )
International Society for Medicine and Law
ORGANIZATION of INTERNATIONAL SCIENTIFIC MEETINGS
1999: Meeting Organizer, 4th Meeting of the European Neuro-Ophthalmology Society (EUNOS), Jerusalem, August 1999.
Member of the International Scientific Committee, 5th, 6th ,7th , 8th, 9th and the 12th Meetings of the European Neuro-Ophthalmology Society (EUNOS), in Tuebingen, Germany, July 2001; Gothenburg, Sweden, June 2003; Moscow, Russia, June 2005; Istanbul, Turkey, May 2007, Luebeck, Germany, June 2009 and Ljubljana, Slovenia, June 2015.
2004: Member of the International Scientific Committee, 15th Meeting of the International Neuro-Ophthalmology Society (INOS), Geneva, Switzerland, July 2004.
Member of the Scientific Programme Committee, Section of Neuro-ophthalmology, Joint Congress of SOE/AAO, Geneva, Switzerland, June 2011, SOE Congress, Copenhagen, Denmark, June 2013, SOE Congress, Vienna, Austria, June 2015, SOE Congress, Barcelona, Spain, June 2017, and SOE Congress, Nice, France, June 2019.